Plumber for Central Heating Installation & Boiler Repairs Service Lutterworth, Hinckley
We are an honest, dependable, family run plumbers offering quality plumbing, central heating installation and boiler repairs service across the Hinckley and Lutterworth areas.
Our experienced plumbers are also Registered Gas Safe Engineers specialising in Boiler Service, Boiler Repairs and Central Heating Installations.
All boiler repairs are promptly attended. Whether it's a leak, broken heat exchanger, faulty motorised valve, temperature control failure, timer problem or any other Central Heating Installation malfunction, you can count on Meade Gas Services.
Need a plumber in Lutterworth?
Call now if you need a gas safe registered plumber. Our gas safe engineers are always on hand to offer professional advice and a free quotation at competitive rates in Lutterworth and Hinckley areas.
All our work is 100% guaranteed.
Boiler Installation
Fast and efficient Boiler Installation guaranteed. Call today and let our Boiler Experts help you choose the correct boiler for your home and budget. Installed by our qualified engineers, your new boiler will be safer and more energy efficient.
Read More
Boiler Service
Protect your boiler warranty and keep it running safely and efficiently all winter with an annual inspection and service by one of our Registered Gas Safe Engineers.
Read More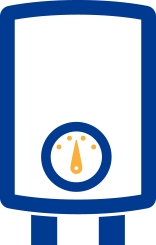 Boiler Repair
Call now for a free quotation at competitive rates and a fast repair in the Hinckley and Lutterworth areas.
Read More

Gas Safe Registered
We pride ourselves on the level of service we offer to all our customers. You can total confidence in the work we carry out as we are Gas Safe Registered. To find out what our customers have to say about the work we have carried out please visit our testimonials page.